Saffy and Brokk's first litter born
8th November 2010
We at Fassfields are extremely proud of Saffy's first litter and are lucky to be in regular contact with all the owners. We enjoy immensely keeping up with all their progress in life.

Below we happily share with you some of the lovely images we have been sent for this thriving litter. We also thank all their owners for their updates and stories of development, it is a warmly welcomed part of sharing this very special breed!
---
Fassfields Prince Xizor - known as "Bennett"
Bennett is lucky enough to reside in the admired Highlands of Scotland - a place very close to our own hearts. Bennett also has a part time job already of being in charge of the reception role of meeting and greeting at the Holiday Park he runs along with his owners!! We enjoy reading his newsletters! Bennett is achieving great results at his training classes. Already embarking on The Kennel Club Good Citizen Dog Scheme Bronze award after storming through the Puppy Award. Bennett will also be enjoying Gundog Training to enhance his many talents!!!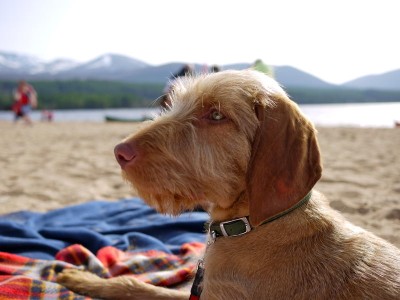 ---
Fassfields Princess Leia at Chilston - known as "Breeze"
Breeze is another wonderful example of this super mating and has already shown her many great natural talents at the HWVA ability and training day that took place in May at Ashdown Forest. Breeze is taking great shape and form and is learning day by day by her many experiences that she is so lucky to be exposed to. We are extremely proud of her and love all the regular updates. She is a super girl and there is no mistaking who her litter sisters are!!!!
Breeze is busy finding her way around the show ring. In recent wins Breeze went Best AVNSC Gundong and went on to take Gundog Group 4 placing - fantastic result again Sue and Brreze, and not fogetting handled by Charlotte. Very well done to All!

Crits - A super 16 months youngster almost the complete package. Good head and eye, excellent body proportions she is so well balanced; such flowing lines. Wire jacket of good colour in top order with right amount of furnishings. Well handled. - Judge, Penny Sands.

Breeze has a very exciting active life filled with varying activities including field training and shot over training days.
below image by kind permission of Benita Gower Images.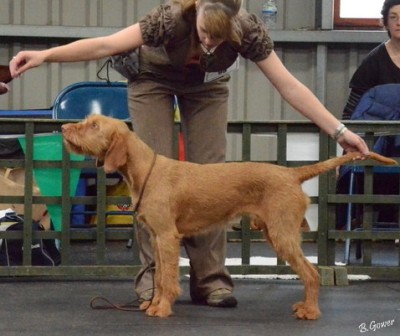 ---
Fassfields Commodore Zuggs - known as "Reni"
Reni's endless happiness, love and affection is much enjoyed with his family and is another member of our litter who is lucky to live north of the border! Already attended training classes and joined in a local "Viz Wiz" walk he is gaining more character and zest day by day. Reni enjoys nothing more than sharing his sofa for countless cuddles in an evening after a hard days play!!!!!!
What better life......................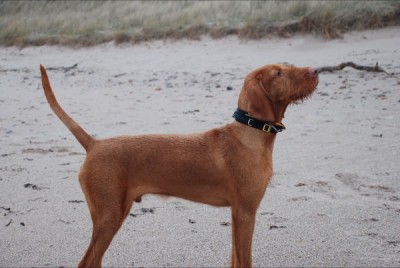 ---
Fassfields Allarna Solo - known as "Letty"
Letti lives with her lovely family in a beautiful part of Hampshire. Letty "Lettster" is lucky to have acres and acres of space to play and learn all her tricks!! She loves to entertain the whole family including the very young ones with whom she doesn't mind sharing her bed with, including Nudge her canine friend!. Always the centre of attention wherever she goes, attracting passers by, she is a real pleasure to live with.
A true little "Saffy-Brokk" girl, just oozing potential!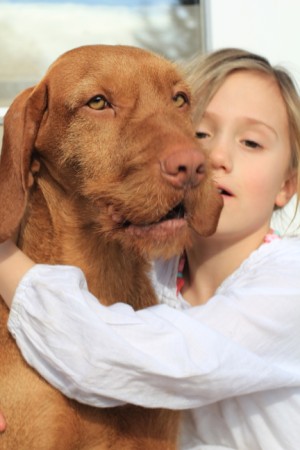 ---
Fassfields Boba Fett - known as "Zoltan"
This handsome young man lives near to our local area and he enjoys the same rugged moors and beautiful surroundings that our dogs do. He has endless energy and is quite truly a super puppy. We really look forward to seeing Zoltan on our local walks and seeing him thrive. A true family member who simply loves to be adored!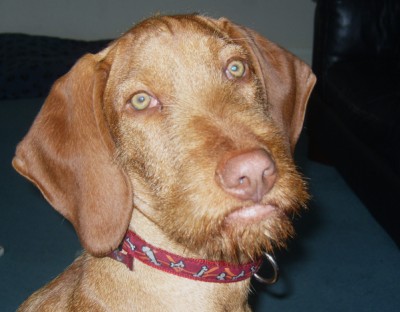 ---
Fassfields Palpatine - known as "Merlin"
Merlin lives a full and very active life with his family, always full of energy and like nothing more than retrieving all the shoes and slippers he can find in the household! He frequently travels to work and has become a bit of a celebrity!! He is hoping to try his hand at agility soon and really test his talent! He is a very loyal and true family companion with relentless love and affection.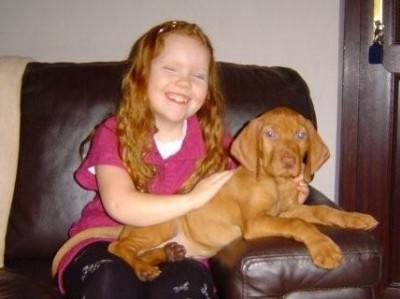 ---
""Life without Wires................ I don't think so!""