About Us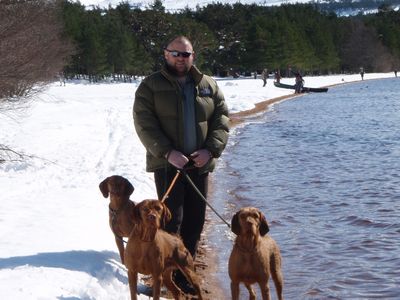 Our dogs are quite simply our way of life. Fortunate enough to have discovered and own our first Hungarian Vizsla in 2005 led us to quickly discover the rare breed of the Hungarian Wirehaired Vizsla, little did we know that is was about to change our lives for ever, and we could not be happier. Having always dreamt of wanting to train, work and compete both in the field and in the show ring the Hungarian Wirehaired Vizsla breed gave us the opportunities for all of this and we absolutely adore this very special and versatile breed of the HPR world.
This breed for us has given us so many great experiences and opportunity to meet and become friends with people who share our same way of life.
Both of our Wirehaired Vizslas are from extremely well respected lines and include the Top Hungarian Kennel in Hungary. We now are fortunate enough to breed from our very own Saffy, "Kenmillix Metope at Fassfields" and we hope to put back into the breed the standard of dogs that we trult believe in.
We do hope you will enjoy our site and sharing our "Passion for Wires"
John and Gail Riley
""Life without Wires................. I don't think so!""