---
2011 August
Welsh Kennel Club Championship Show
VHC Open Bitch
Valerie Foss

---
2011 July
Leeds Championship Show
Reserve Open Bitch
Eileen Gates

---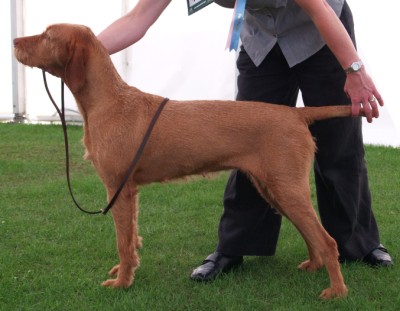 2011 July
Windsor Championship Show
3rd Limit Bitch
Doreen Smillie

---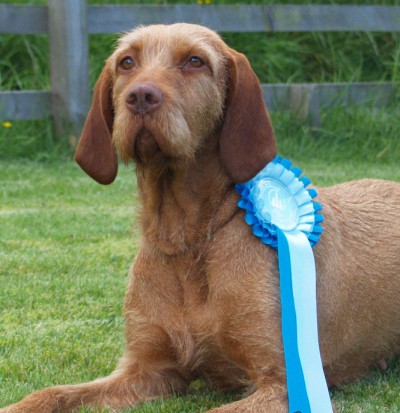 2011 June
Blackpool Championship Show

**** ****** BEST BITCH **** ******

1st Open Bitch
Brenda Banbury

Judges Critique:- "feminine, good head & expression, good neck, strong topline & rear, well angulated, tail well carried, coat harsh, moved well fore & aft holding good outline." - Brenda Banbury.
---
2011 May
SKC Championship Show
3rd Limit Bitch
Christine Morgan

---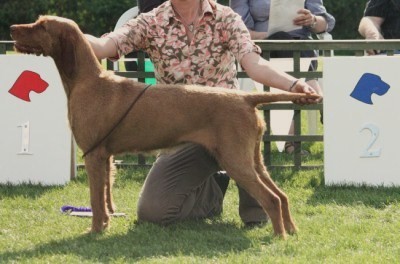 2011 April 23
HWVA First Championship Show
2nd Limit Bitch
Frank Kane

---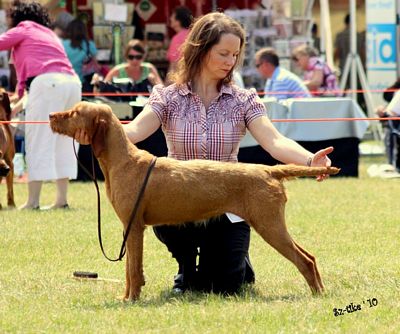 2010 June
Blackpool Championship Show
"BEST OF BREED"
Gordon Williams

Judges Critique:- "Lovely outline, typical head, good front assembly, correct layback of shoulder, strong topline, correct tailset, well developed body, strong well angulated quarters, outstanding carriage on the move, in lovely condition and very well handled." - Gordon Williams.
---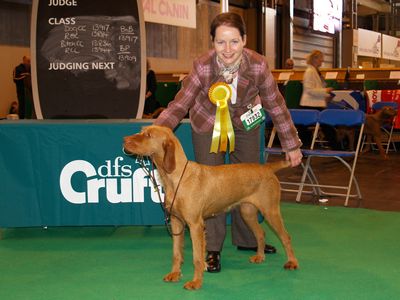 2010 March
CRUFTS 3rd PGB (16 exhibits)
Chris Bexon
---
2009 August
NATIONAL Gundog Championship Show 3rd PGB
Jonathan Parry
---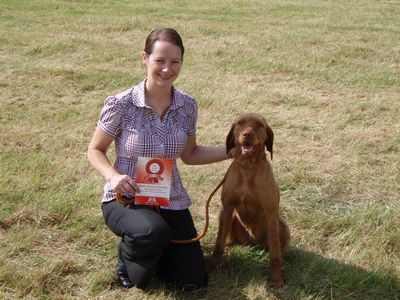 2009 May
BATH Championship Show 1st PGB
Chris Schofield


Judges Critique:- "Beautiful bitch in fabulous coat and condition, her head is superb, kindest of eyes and correct proportions, balanced from every angle with no exaggerations, excellent bone but remaining refined and feminine throughout. Moved with verve and drive with super forward reach and rear drive. I thought I had found my star of the day in this young lady but unfortunately she lost it in the challenge by being over excited. Will watch out for her in the future." - Chris Schofield.
---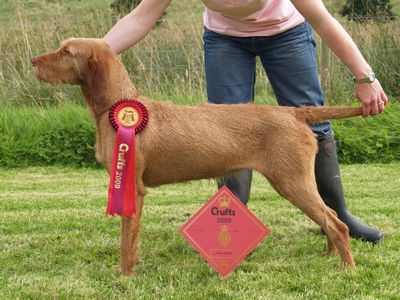 2009 March
CRUFTS 1st PGB(24 exhibits)
Carole A Coode


Judges Critique:- "Very pleasing in head and good overall balance, neck and lay of shoulder good. Upper arm could have a little more angulation, super ribs, very good top line and great rearend, well boned legs and tight feet, moved soundly, in great coat." - Carole A Coode.
---
2008 September
DARLINGTON Championship Show VHC PGB
Pauline Suhr

---
2008 June
THREE COUNTIES Championship Show VHC PGB
Chris Guest

---
2008 May
NATIONAL Championship Show 3rd Junior Bitch
John Thirlwell

---
2008 May
SKC Championship Show 3rd Junior Bitch
M Blay
---
2008 April
WELKS Championship Show 2nd JNR Bitch
Sara Barnard


Judges Critique:- "Nice type, feminine head with furnishings, clean neck and shoulders, balance outline standing and moving, held top line well." - Sara Barnard.
---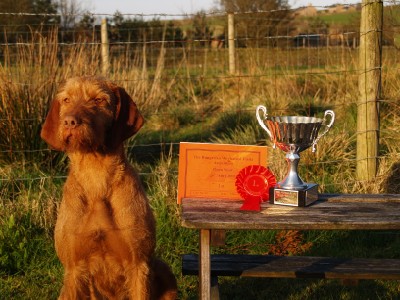 2008 April
HWVA Open Show 1st JNR
Junior Bitch Championship Trophy Winner


Judges Critique:- "Lovely young bitch, slightly unbalanced in head being a bit too strong in skull, very good boned limbs, oval feet and lovely pasterns, strong neck, well placed shoulders and upperarm, good ribbing, a little long in loins, very good hindquarters, in very good coat, moved on a long stride just needs to settle in front action." - Sharon R Pinkerton.
---